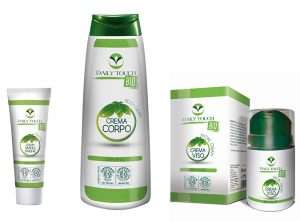 The Daily Touch line is growing: in 2016 new products for body care and face were added to the cosmetics family and rinsing products and many articles, appreciated by customers, have changed its appearance, modernized their image with a  new and very elegant graphic.
The 2017 could not be outdone, and so the new year begins with the launch of three flagship products of UT Europe Srl, in Bio version.
Body Cream, Hand&Nail Cream and Face Cream, in practical airless tube are the last three articles Daily Touch that you will find on the shelves of specialty shops and supermarkets that are customers of UT Europe (IperTosano, Ekom, Dpiù, Penny Market, just to name a few).
The entire Daily Touch Bio line, produced exclusively in Italy, offers a high concentration of natural ingredients with strong smoothing and anti-aging effect, such as Karitè butter, vegetable glycerin, olive oil, Chamomile Extract and Vitamin E.
Again, the trust of consumers is not betrayed  the price of Daily Touch products, is always accessible and competitive in accordance with the main reference brands.
If the customer calls, UT Europe responds: the decision to dedicate a portion of its production to natural cosmetics has born from listening to new market trends. The fact, data referring to 2016, speaks of a trend from 460 million euro. It is now undeniable that consumers are more careful to ecological sustainability and more demanding regarding the composition of the creams or soaps that decide to buy. For this reason the three Bio Daily Touch products are nothing more than the beginning of a new proposal for those who love taking care of themselves, but also the environment.
In short, the Bio Daily Touch line will also be available on the E-commerce UT Europe, in the section dedicated to personal care https://uteurope.pswebshop.com/it/25-personal-care, where the products are sold in cardboard at tiny prices, directly to customers home.