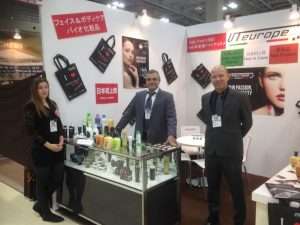 Expectations were high and were not betrayed. It began the great 2017 for Daily Touch products that have seen their debut at the renowned Cosme Tokyo, the Asian fair that every year brings together thousands of manufacturers, suppliers and customers in the big world of cosmetics.
«Three days really intense – says the General Manager of UT Europe, Massimo Garaventa – but it was inspiring: many contacts, new insights and a lot of ideas to improve our work and make an ever more efficient service to our customers.»
There are more than 100 contacts, among those both Japanese and internationals contacts, who have expressed an interest to the Personal Care Daily Touch line. These will definitely go to increase the already vast panorama of the UT Europe customers.
«You can not establish the number of people who passed by our stand – says Valentina Greco, Asian market jr. purchaser – we were among the only two Italian stands and the only ones to offer our kind of products. We also had the honor to give an interview to a major Japanese newspaper … fingers crossed!»
Particular attention has aroused the new line of 100% Bio, previewed at the fair: hard to find anywhere else such a high quality in the composition of the ingredients, at an affordable price for large retailers.
Hand cream, body cream and face cream Bio branded Daily Touch, in fact, are rich of selected natural ingredients (olive oil, Karite butter, vitamin E, vegetable glycerin and chamomile extract) with actions antioxidant and anti-aging, rebalancing the lipid layer.
«We are confident – says Alessandro Odin, Sales Manager – that this new line of organic products will conquer the Asian market, as well as the European one, where we are already present in many countries, not only with Pesonal Care line, but also with the products of the line House Care and Tissue.»